Why the RangePro X8?
We compared the RangePro X8 to five of the industry's top-rated drones. What did we learn? That when it come to ROI, competitor drones don't even begin to compare.
Explore the ROI
THE POWER OF 1 Our Battery v. Theirs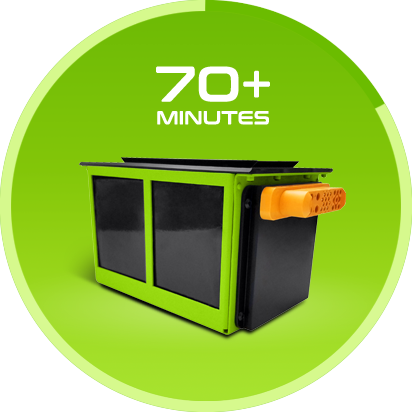 Designed and assembled in the USA, just one RangePro X8 battery gives you 70+ minutes of flight time with standard payload.
Buying Time.
Comparing operating costs per year shows you can't afford not to invest in the RangePro X8.
Annual operating costs at 3 flights per day, 3 days per week, 40 weeks per year
Time better spent.
We've crunched the numbers internally, and considering purchase price plus typical annual operating costs, the price of doing business with any drone but the RangePro X8 just doesn't add up.
Always above
and beyond.
Not only does the RangePro X8 last longer per mission, each battery can support over 400 charging cycles in its useful lifespan.
Average hours of Flight in Single Battery Lifetime
In full flight.
Let's talk numbers. 360. That's how many hours of flight time you'll get with a single RangePro X8 battery—more than double the closest competitor.
You don't have time (or money) to waste.
Thanks to longer flight times, lower operating costs, and fewer batteries per mission, the RangePro X8 delivers maximum ROI.
Operating Costs Per Mission
Less time wasted.
More money saved.
Improved battery life results in fewer swaps and less wasted time—meaning the RangePro X8 delivers the lowest cost per mission of any drone in its class.
Spend Time on the Mission
Not On Battery Swaps.
Drones are meant for completing missions, not going back and forth to swap batteries. Go with the only drone that won't hold you back: the RangePro X8.
Mission Flight Time
Battery Swap Flight Time
Battery Swap Ground Time
Stop wasting time.
Battery swaps disrupt data capture, limit mission coverage, and waste operator time. Maximize your mission time with the RangePro X8.